Neilson Chocolate Maps
---
Neilson map of Canada
Today, we educators tend to balk at the idea of "corporate sponsorship" in our schools. That is, teachers tend to view education as a public service that should be fully funded by government coffers. Most people do not realize that independent corporations have long provided materials for Canada''s classrooms on the condition that the materials advertise the companie''s goods and/ or services. A case in point are the William Neilson Limited "chocolate maps" that graced the walls of Canada''s classrooms beginning in the early 1900s.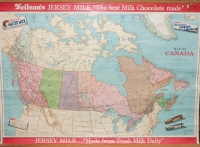 Letters offering teachers maps of Canada "absolutely free"''" were sent out by the Copp-Clark Company of Toronto on behalf of Neilson. Large numbers of teachers in cash-strapped school districts took up the offers. By 1953, Neilson had issued approximately 55,000 free maps of Canada and the world to schools across the country.
For more information on the history of corporate sponsorship in schools, see Catherine Gidney and R.D. Gidney, "Branding the Classroom: Commercialism in Canadian Schools, 1920-1960", Histoire Sociale, 41, 82 (November 2008): 345-379.
-- Helen Raptis